Resources » Getting Started ¦ Chat Commands ¦ Stats ¦ Credits ¦ Slang




« Back to World View & Teleporting




Conquering Camps & Camp Management
You can survive on planet Visitor in only one camp, but to be successful, you will need to expand. To do that, you will need to conquer other regions.




A camp is ready to be conquered (claimed) only when all Turrets and corporate specific production facilities have been destroyed or dismantled from the region. Corporate specific production facilities include Weapon Plants, Armor Plants, Rover yards, Gear Factories, Research Facilities, Warehouses and Nerve Centers.




Other buildings like Wells, Silos, Walls and the Teleport Matrices can remain.




Visitor Camps
Once the buildings have been removed from the region, it is considered "Destroyed" and its ownership will revert to Visitor (indicated by the planet icon in the World View). The Region is then opened to be Conquered. You can only claim Visitor camps. You may want to try to claim an old abandoned Visitor Camp first, before trying to take on an established camp.




Claiming
To claim a camp, you must build a Nerve Center in the region. As soon as you do this, the camp belongs to you. It is a good idea to bring a Teleport Matrix and some Wells along with you when claiming a camp. Otherwise, you will need to Teleport Home from the Wall.




When you log out, only your Home Region will be locked. Your other camps will remain open and are vulnerable to attack. Before claiming a camp, you should have an MDN ready to protect you. It's a good idea to Activate your MDN Alert Status in the Camp's Management Profile. This enables your MDN to receive Alerts when the alerted camp is under attack.




Camp Management
The Camp Management screen offers various options for the camp you are in. Such as changing the name, signature, activating alert status, changing your home region, as well as the ability to hide some of your camps. You can access the Camps Management screen in the bottom left corner above the players listing for the chat box. First select the Camp channel, then click edit.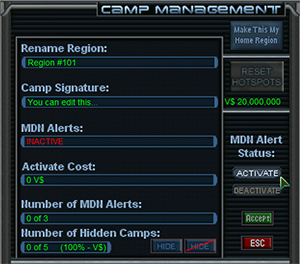 Camp Alerts set off an alarm that notifies your MDN when a camp is under attack. By default a camp is not alerted, so be sure to activate the Defense Network for camps that you want defended. Alerting your camps comes at a price, as you activate more camps the price increases. The number of camps you can alert is based on your level.
Hiding a Camp removes the camp number and information from your profiles camp list when searched on world view by other players. This can be used to conceal activity of a camp while it is being built, or make it harder for an enemy to find your more valuable assets.
Changing your Home Region
Your Home Region is your main base camp where you always start when you log in. Your Home region will always be locked and secure when you are not logged in. You can change your Home Region to another camp that you have claimed. Changing your Home Region costs $5,000,000 visitor credits.
» Onto Using Transium & Healing
Resources » Getting Started ¦ Chat Commands ¦ Stats ¦ Credits ¦ Slang