Resources » Getting Started ¦ Chat Commands ¦ Stats ¦ Credits ¦ Slang





Options and Exiting
To exit project Visitor, hit "ESC" when on the playing field to get the options menu. Here you can access audio and video settings and change key bindings.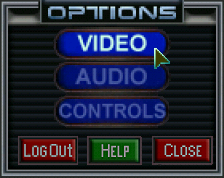 To exit, select "Log Out" or simply hit "ENTER" twice. When you log out your Home Region will automatically lock behind you. This means no one will be able to enter your Home Region while you are offline. If there are players in your camp when you log off, they will stay there, but will not be able to re-enter your camp if they leave. If you own more than one camp, only your Home Region will lock when you log out. These camps will be vulnerable to attack but will also continue to mine Transium.


Resources » Getting Started ¦ Chat Commands ¦ Stats ¦ Credits ¦ Slang