Resources » Getting Started ¦ Chat Commands ¦ Stats ¦ Credits ¦ Slang




« Back to Jitters and Transium




Building your Base
All your supplies are currently in your backpack in the form of Jitters. Jitters are a silicon-based life form native to planet Visitor. Jitters have been programmed by your Corporation to build and construct various objects. To start building your base you will need a Nerve Center. The Nerve Center is the heart of your camp and you should defend it well. You can always relocate your buildings, so for now find some suitable terrain to help you get familiar with the game.



| | |
| --- | --- |
| 1. To build the Nerve Center, first click on the Jitter Menu Icon (it looks like a jellyfish) located in the bottom right side corner just above your Avatars portrait. | |
| 2. Scroll down the list until you locate your Nerve Center Jitter. Left click to select it and a list of commands will appear in the top right. Click the "BUILD" button. | |
| 3. Now move your cursor to the playing field. You will see a transparent image of the Nerve Center. Move the image around with the mouse (you can rotate it with the "PageUp" key) until you like the position. It may be easier for you to place the Nerve Center if you hit the "F" key to switch between Aim and Command Mode. Left Click on the playing field to build the Nerve Center. Once the build process has started, it cannot be stopped, but you can relocate it later if you like. | |
Storing your Jitters » One of the Nerve Center's primary functions is to build other
structures. You must first transfer the "Building Jitters" from your Avatar's Backpack to the Nerve Center. The quickest way to achieve this is by using the "F3" hot key to transfer all your Buildings into the Nerve Center. You must be within range of the paddock to interface with it.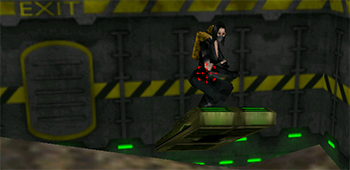 To find the Jitters that you stored, double click on the Nerve Center to access the building's inventory panel.
Camp View »To enter Nerve Center Mode, move your Avatar to either door at the
front or rear of the Nerve Center. Once inside you will be in Camp View and will see a new menu at the top of your screen.





In Nerve Center Mode you will find:


» World View is used for teleporting.
» Info gives you information about every object available on Visitor.
» Market is for buying and selling Jitter Packs (supplies).
» CorpNet is for keeping track of the Corporate Defense Network.
» Help is what you are reading now.



Camera Control » From within your Nerve Center you can get a good overhead view of your camp. There are a few ways you can move around in Nerve Center View. Use the "F" key to toggle between Command and Aim Mode. In Command Mode, you will be able to access your menus while using the directional (WASD) keys to pan your view. While in Aim Mode, however, you can quickly fly around your camp in camera view. Simply use your mouse to Aim in the direction you want to go, and use your directional (WASD) keys to move. Press SPACE BAR and Shift+SPACE BAR to quickly move up and down.

Note: You can build from this overhead view or from 1st person; both views have their advantages.




» Onto Building Wells & Mining Transium




Resources » Getting Started ¦ Chat Commands ¦ Stats ¦ Credits ¦ Slang